Corrado Paina è vissuto metà della sua vita in Italia e metà in Canada.
Da Milano a Toronto ci sono un oceano, laghi, fiumi e città.
Paina ha volato spesso su questi e quando non lo fa scrive e dipinge. Quando vola corregge.
Dipinge volti che annera e invecchia con il carboncino. Suo medium preferito. Anche le sue poesie sono seminascoste dal carboncino. A volte le fa risaltare, ma il piu' delle volte le cela, le incupisce, le fissa.
Molte poesie qui e in Canada. Grandi amicizie come quella con l'artista Sandro Martini con cui fa tre libri: "Tempo rubato" (poesie – Atelier 14 – incisioni di Sandro Martini Milano – 2004) "L'alfabeto del viaggiatore" ( poesie – Silvia Editrice – 2007 – incisioni di Sandro Martini) " Abecedario" ( poesie – stampa di Paolo Nava 2010– incisioni di Sandro Martini).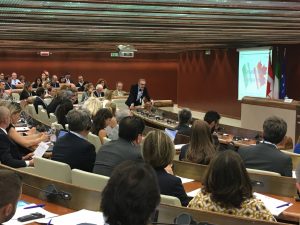 Incontra Alberto Casiraghy con cui fa diverse plaquettes ( il pulcino e l'elefante) e ne fa altre con il poeta Roberto Dossi ( i quaderni d'Orfeo ) e con l'incisore Luciano Ragozzino ed il filosofo Dario Borso ( il ragazzo innocuo ) .
Cinque raccolte in inglese con l'amico Denis De Klerck di Mansfield press ( Hoarse Legend (2000), The dowry of education (2004), The alphabet of the traveler (2006), Souls in plain clothes (2008), Cinematic taxi (2014), un romanzo ( between Rothko and three windows) pubblicato in Italia e poi tradotto in Canada con l'amico Lucio Iacobelli di 4editions, le poesie raccolte in "Un brindisi alla malattia" (2019, Sef) e Changing residence – selected work (2023, Mansfield press)
Paina ha scritto poesie e racconti . Vive a Toronto e sogna di fare il pendolare tra il Canada, l'Italia e Cuba.
Quando lascia un posto per un altro cita il pensiero di Lucrezio insegnatogli nei bar da Adriano Savio.